Zaaf Collection invites you and your guests to join them in celebrating their Grand Opening in Washington, DC on December 1, 2018.
Come and celebrate with Zaaf Collection team as they launch the ZAAF Collection's fabulous showroom featuring their unique line of award-winning handmade leather bags and accessories right in the heart of the District. Be the first to preview the wonderful pieces they will be offering – all made in Ethiopia by the talented and dedicated artisans – and go home with some amazing items for the most special holiday gifts (no worries if your gift ends up being from you to you).
The ZAAF Store is not going to be your ordinary boutique – you can come in and design your very own piece in our design lab! Choose from different models, sizes, leather, and accents to create your very own one-of-a-kind piece. To fulfil the first 15 ZAAF design lab orders Placed on December 1st in time for Christmas.
RSVP: Kindly inform Zaaf of your attendance by November 28th Register on Eventbrite or via email at info@zaafcollection.com
1 December 2018 at 2:00pm - 1 December 2018 at 6:00pm
ZAAF COLLECTION 1409 Florida Ave. NW Washington, DC 20009 United States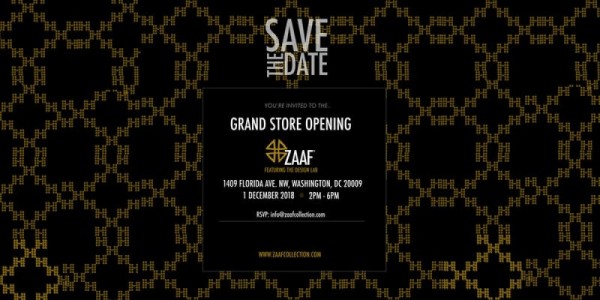 Share this page