We are headed to Birmingham on Saturday 6th June for WITJ Natural Hair & Beauty Expo powered by You Be-Natural Luster Products. Although we have held very successful natural hair events in London over the last few years, this will be our first time in Birmingham. We aim to deliver an event that Educates, Inspires and Celebrates the modern day woman of colour, her male counterpart & their offspring.
Brought you by the popular online UK based hair & beauty brand WomanInTheJungle, we are bring our online presence offline servicing the under served UK & European natural hair & brown beauty market. This interactive yearly expo is cultivated for the modern day woman of colour, by modern day women of colour.
Full Expo program & detailed event information via www.uknaturalhairevents.com
Credit & Debit cards accepted when checking out via PayPal.
Sponsorship & Exhibition opportunities | wunmi@womaninthejungle.com
Volunteers & Model Enquiries | chantelle@womaninthejungle.com
Event Program Participation* | ayoki@womaninthejungle.com *Stylists, Makeup-Artists, Salons, Speakers, Panelists, Designers, Live Entertainment etc
General Enquiries | info@womaninthejungle.com
6 June 2015 at 9:30am - 6 June 2015 at 6:00pm
Holiday Inn Birmingham Smallbrook Queensway B5 4EW Birmingham United Kingdom
Contact: info@womaninthejungle.com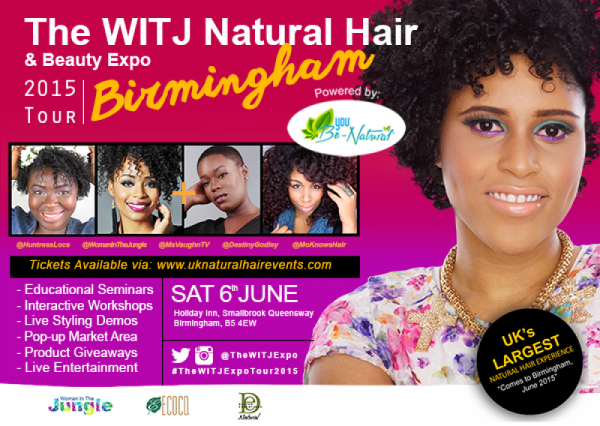 Share this page