MISS HABESHA USA 2015 PAGEANT, HOSTED BY MITITUTI, LLC, INVITE THE YOUNG WOMEN OF THE ETHIOPIAN/ERITREAN-AMERICAN COMMUNITY THROUGHOUT THE UNITED STATES, EVEN THE WORLD, TO COMPETE IN THIS GREAT EVENT.
WHAT MAKES THIS PAGEANT DIFFERENT FROM OTHERS IS THAT AUDIENCES OF MITITUTI.COM GET THE OPPORTUNITY TO PICK THE 20 FINALISTS THROUGH THEIR VOTES. NOW THAT THE FINALIST HAVE BEEN CHOSEN, IT'S TIME TO CROWN THE WINNER!
"DRESS TO IMPRESS" FOR THIS SPECTACULAR PAGENT CELEBRATING THESE BEAUTIFUL LADIES FROM AROUND THE WORLD, FEATURING FEEDAL BAND AND DJ PHATSU.

~BAR AND DINING SERVICE ALSO AVAILABLE
~TABLE MINIMUM $10 PER GUEST
3 April 2015 at 5:30pm - 3 April 2015 at 11:00pm
Bethesda Blues & Jazz Supper Club 7719 Wisconsin Avenue Bethesda, MD 20814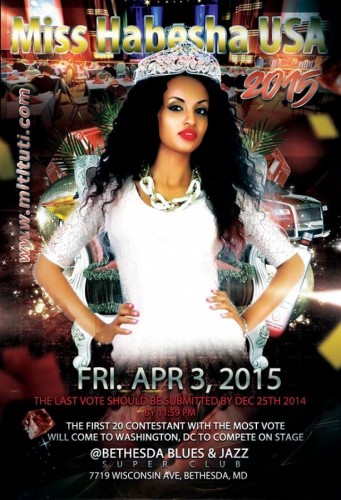 Share this page