"I Appreciate You" Solo Exhibition by Catherine Chambers
The Embassy will be hosting a solo exhibition by Catherine Chambers, from Friday 20th September for two weeks.
Catherine, a London-based artist, has in recent years, developed strong ties with Ethiopia. Since 2015 she has shared her time between Lalibela and London and this has strongly influenced her work. Last summer, Catherine's portrait of an Ethiopian friend 'Girma' was exhibited at the Royal Academy of Arts Summer Show.
The majority of works that will be exhibited at the Embassy will be oil portraits of friends in Lalibela, people Catherine visits frequently but who cannot do the same in return. Painting a portrait is a way of showing her appreciation.
The title of the exhibition comes from hearing the phrase "I appreciate you" being used often in Lalibela, which sparked Catherine's interest in the variations in meaning that can occur by translation from one language to another.
Catherine's attempts to learn and speak Amharic rely on translations and interpretations of words and phrases by friends, together with her own interpretations leading to some often amusing and confusing misunderstandings.
Catherine's exhibited paintings, she hopes, will communicate "I appreciate you" of her relationship with Lalibela in both languages.
Artwork from Catherine Chambers solo exhibition "I Appreciate You" can be viewed from Friday 20th September - Thursday 3rd October 2019
Opening Hours Monday – Friday (CLOSED Saturday & Sunday) - 10am – 1 pm & 2 pm - 5 pm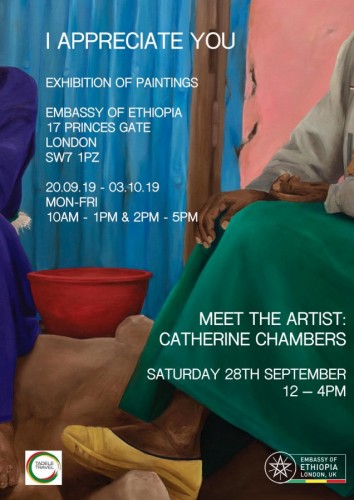 Share this page