Ethiopian Business Club UK (EBC) cordially invites you to the EBC Exploration Meeting (#3) in Partnership with British African Business Alliance (BABA).
Objective:
To define and set in motion the Ethiopia Business Club UK. As a Business Club EBC is membership based; and, we seek to develop a pipeline of bankable business projects that our members bring forward. It is led by members of the ET Community in UK. EBC-UK is looking to meet Entrepreneurs, Business Owners and Manager, Investors, Funders and Development Specialists working in NGOs, Charities, Senior officials from African government bodies and Members of the African Diaspora to join us and act as catalysts to accelerate the development of business in Ethiopia.
The event is FREE to EBC & BABA Members and there will be a £10 charge for Guests to cover the cost of the venue as well as tea and coffee. All are welcome, there is much to be achieved.
Please confirm your support, attendance and share this notice with your friends and contacts from other major UK & African communities that are interested in doing business in Ethiopia.
EBC meets monthly in London or other major ET communities in UK.
The Agenda:
18:30 - Arrival & Networking
19:00 - Welcome & Presentation
2030 - Close & Networking
21:00 - Close
The event will start at 19:00 pm sharp. Please get there for 18:30 in order to get enough to time for registration and meet and network with other participants. Light Refreshments will be served.
If you would like to sponsor the event, please contact Bilen Shifferaw at EthiopianBusinessClubUK@gmail.com
---
Join Ethiopian Business Club UK
29 August 2018 at 6:30pm - 9 August 2018 at 9:00pm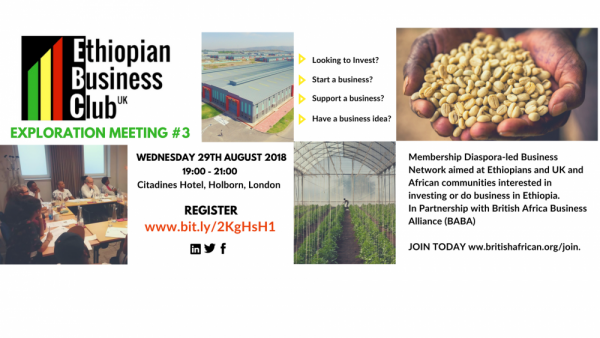 Share this page