Empower Africa in collaboration with YEP presents this month's Empower Session titled "Unlocking the Power of Diaspora Professionals" to be held on June 12, 2019 at 6 PM in Addis Ababa, Ethiopia.
What are the potentials the Ethiopian Diaspora can play?

Why is Ethiopia not using the potentials of its Diaspora community?

What can be done to benefit from the knowledge and skills of the Ethiopian Diaspora?
SPEAKERS INCLUDE
MOHAMMED ENDRIS, Deputy Director General, Ethiopian Diaspora Agency
MESFIN GETANEH, Co-founder & Executive Director, Your Ethiopian Professionals (YEP)
Your Ethiopian Professionals Network (YEP) is a community of diverse professionals who strive for growth, excellence and success. The mission of YEP to inspire, educate and empower the Ethiopian professional community to make a positive impact in the world and envisions a strong community that shares ideas, skills and resources to enrich lives.
Founded by Ethiopians in 2010, YEP is a non-partisan and non-religious organization, that began by featuring inspirational speakers, hosting educational sessions and providing networking opportunities to support our mission.
12 June 2019 at 6:00pm - 12 June 2019 at 8:00pm
National Archives and Library of Ethiopia Addis Ababa Ethiopia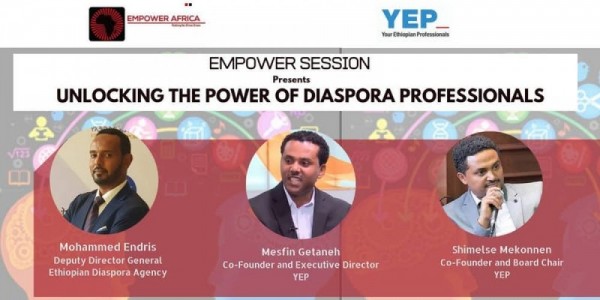 Share this page