The I'mPOSSIBLE conversation puts women of colour on a panel to talk on the theme of 'How I became POSSIBLE'. Running since 2011, the event has given a platform to a variety of trailblazing women of colour who define success on their own terms. See past videos from the events here. In March, the event series went international, hosting it's first global edition in New York and in June it celebrated it's third anniversary.
This autumn, see amazing array of women of colour who define the POSSIBLE:
Rozan Ahmed, Kerry Chandler, Laura Mvula, Sharmadean Reid, and Lukwesa Burak (host). Read more about each speaker.
Be a part of the magic and come witness how amazing the POSSIBLE are!
10 September 2014 at 7:00pm - 10 September 2014 at 9:30pm
L'Oreal UK headquarters 255 Hammersmith Rd W6 8SJ London
Price: Standard £25.00| Group £18.00+ BF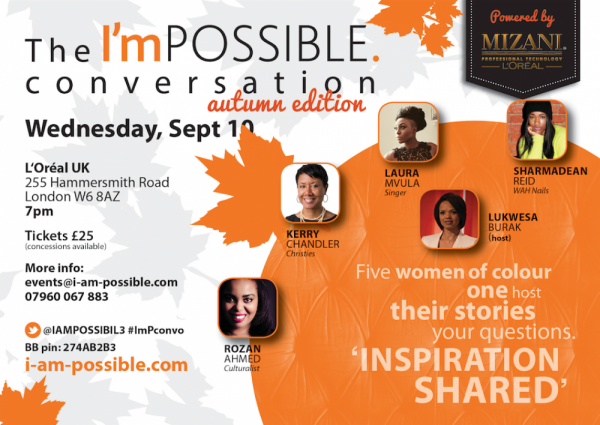 Share this page