Literary Natives are excited to be in collaboration with Market FiftyFour and the Wada Network Book Club once again for another interactive event on the 15th of December in a cosy coffee shop and community space Coffee Afrique in Dalston.
We will be exploring narratives of coming of age in modern African diaspora fiction, film, and poetry. The aim of the afternoon is to foster a space where attendees can interact with the featured short film, poems and short stories and talk about these themes in relation to their own coming of age experiences. Our previous book club event allowed attendees to participate and share their stories as well as meeting other people who love to read and talk about books.
Speakers:
Mo Ali, Director and founder of Wada Network

Salma Ibrahim, Short Story Writer, Novelist-in-progress and Founder of Literary Natives

Abdi Bahdon, Poet
Panel chair:
Asha Mohamed, Illustrator, Aspiring Children's author and Co-Producer at Literary Natives
*Attendees will be sent complimentary digital copies of the short stories, short films, and poems.*
Venue info:
Coffee Afrique is fully accessible and is a 7-minute walk from Hackney Central underground station. There are also prayer facilities available for use.
For any queries, please email literarynatives@gmail.com.
This event is rescheduled from December 15th 2018.
19 January 2019 at 3:00pm - 19 January 2019 at 5:00pm
Coffee Afrique London Dalston Lane London E8 1FA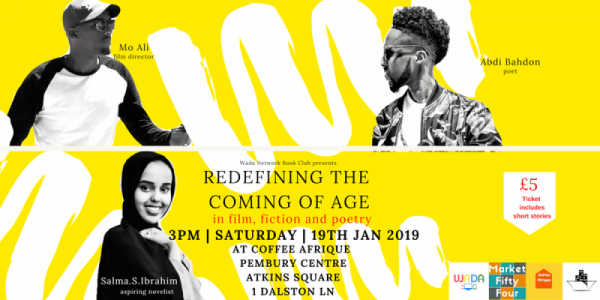 Share this page