Positioning the "Of Movement" as an ongoing evolution of an artistic experience would be one point of entry to catch on the project. The dynamics of its progressions initially comes into being because of the diverse artistic and cultural backgrounds of its participating artists. Their preferred medium ranges from painting, sculpture, installations to time-based works of art. Their experience also stretches from young and fresh-graduate artists to established ones.
Consequently, their take in conquering the premises of the project would evidently vary and develop as a result of the discussions and anticipations among the participants of the project. The project is bounded by the imaginative as well as the first hand experiences of the artists through travelling to various parts of Ethiopia where the project is being realized.
The vigor that advances the interactions and engagements of the participants is the principal guiding force that reveals the evolving nature of the "Of Movement" project. Hence, to be able to navigate is to become part "Of Movement" itself.
Opening night January 17, 2018 at 6:00PM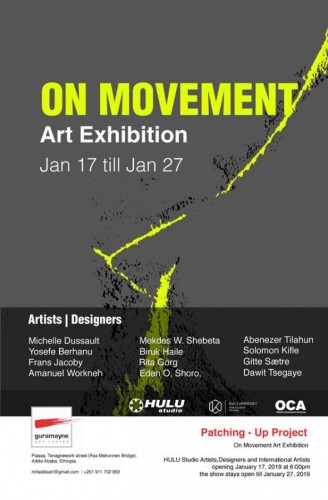 Share this page