Lemn Sissay returns for the release of his book, My Name is Why: A Memoir to be released on August 29th 2019.
At the age of 17, after a childhood in a fostered family, followed by six years in care homes, Norman Greenwood was given his birth certificate. He learned that his real name was not Norman. It was Lemn Sissay. He was British and Ethiopian. And he learned that his mother had been pleading for his safe return to her since his birth.
Lemn Sissay's memoir reflects on childhood in care, self-expression and Britishness, and in doing so explores the institutional care system, race, family and the meaning of home.
For details on tour dates and location please click here
17 August 2019 at 6:00pm - 8 December 2019 at 11:00pm
various venues and countries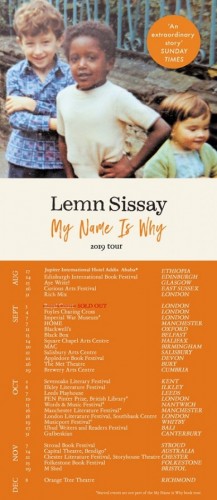 Share this page