Mulatu Astatke Tour - Norway
One of Cosmopolite's returnees returns March 7 after years of sold-out concerts in the Soria Moria Castle on Torshov. We're talking about Mulatu Astatke, the world champion who has inspired Nas, Damien Marley, K'naan, Kanye West and Fleetwood Mac - to name a few - with their innovative "ethio-jazz".Ethiopian jazz is a unique fusion of traditional Ethiopian music with jazz, afro-funk, soul and Latin rhythms, and is considered one of Ethiopia's greatest innovations. Mulatu Astatke was also the first African musician to be recorded at the prestigious Berklee College of Music, and already in 1965, 22 years old, he released his first album.

Mulatu Astatke is getting an ever-growing fan base and eventually appeared in his career on a number of historical records, with the release of the "Ethiopiques" series causing many to block their ears. In addition, the music has been used in several films, and both Elvis Castello and Robert Plant have declared themselves as big fans.

75 years old, Astatke is as active as ever and plays sparkling concerts around the world. He has recently collaborated with both the Either / Orchestra in the United States and The Heliocentric in England, and in 2010 released the critically acclaimed album "Mulatu Steps Ahead", which is a wonderful mix of African rhythms, funky blowers, sensitive jazz elements, and an almost hypnotic big band sound.

Line-up:
Mulatu Astatke - vibraphone, percussions, keys

James Arben - Saxophone & MD

Byron Wallen trumpet

Alexander Hawkins - piano & keys

Ben Trigg - cello

John Edwards - double bass

Jon Scott - Drums

Crispin Robinson - Percussions
7 March 2019 at 8:00pm - 7 March 2019 at 11:30pm
Cosmopolite Scene Solo, Vogts gate 64, 0477 Oslo, Norway
Price: 350.00 NOK - 400.00 NOK (incl. 30.00 NOK fees)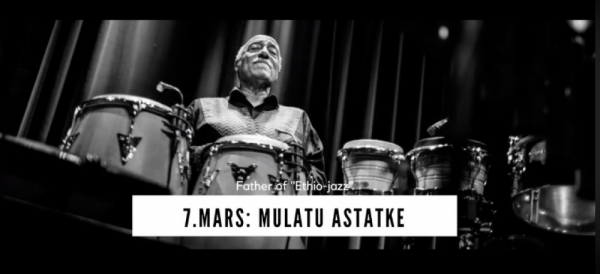 Share this page