Jazz musician and composer Mulatu Astatke is one of our great musical innovators and has long established himself as the father of ethio-jazz. March 10, 2019, he ends the Selam Festival Stockholm at the Concert Hall Stockholm!
In his twenties, Mulatu Astatke travelled from homeland Ethiopia to Wales with the goal of becoming an engineer but soon changed both subject and continent to instead, after studying music in both London and New York, become the first graduate African artist from Berklee College of Music in Boston.
The basis of its unique sound was Astatke by crossing Western harmonics with the pentatonic scales that characterize Ethiopian music tradition. When he then moved to New York, he further developed his musical surface pressure by being inspired by African-American music, jazz and Latin American rhythm. At the end of the sixties, Astatke played three albums in the United States along with Puerto Rican musicians, records that today are widely sampled and hotly sought after among vinyl collector
He returned to Addis Ababa with a unique knowledge of American jazz, which not only resulted in a series of now legendary solo albums, but also in a completely new music scene in Ethiopia. Based on Mulatu as an iconic figure, during the early seventies a musical meeting was created between western funk and jazz with East African melodies - and the ethio-jazz was born.
Today, Mulatu Astatke is touring with its ethio-jazz all over the world before crowded concert venues and the concert in Stockholm will be one of Selam Festival Stockholm's great highlights!
10 March 2019 at 7:30pm - 10 March 2019 at 10:00pm
Stockholm Concert Hall Hötorget 8 SE-111 57 Stockholm, Sweden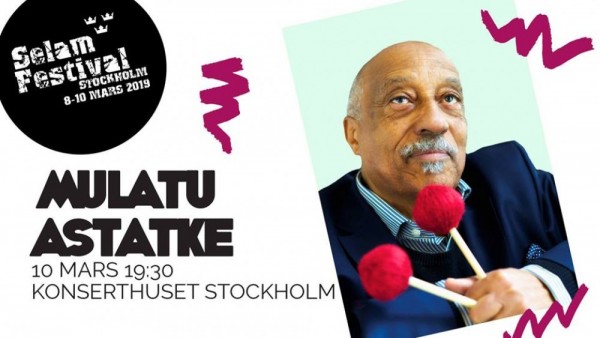 Share this page