On Saturday, the 13th of October 2018 at the Royal Regency Hall in London, 34 dazzling, eloquent, smart, fit, civic-minded, talented and beautiful young women representing 18 African Countries will compete for the coveted title of Miss Africa Great Britain. The finalists are from Somalia, Ivory Coast, Nigeria, Zimbabwe, Angola, Togo, DRC, Liberia, Cape Verde, Eritrea, Guinea Bissau, Cameroon, Kenya, Sierra Leone, Ethiopia, Ghana, Gambia and Zambia.
Also on the night, the organisation will present 3 exemplary individuals and/or organisations with its prestigious Charity Awards. Categories are Young Fundraiser of the Year Award, Golden Heart Award and a Lifetime Achievement Award.
This promises to be a great night of top-notch entertainment, beauty, Fashion, music, comedy and a brilliant opportunity to network with the hundreds of professionals from various fields that will be attending the event.
Time: 8PM Dress Code: Black Tie
.......................................................
Good luck to the habesha contestants taking part.
Meet Contestant Number 3 - BESELOT
Meet Contestant Number 10 - KRISTINA
Meet Contestant Number 13 - KISANET
Meet Contestant Number 17 - EMANA
Meet Contestant Number 29 - HELEN
13 October 2018 at 7:00pm - 14 October 2018 at 1:00am
THE ROYAL REGENCY HALL 501 HIGH ST NORTH LONDON E12 6TH
Price: From £22.15 – £755.19
Contact: info@missafricagb.com or call 07830970465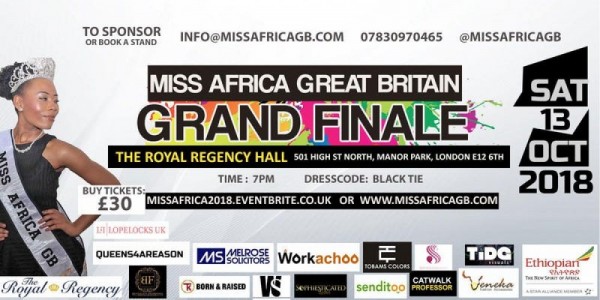 Share this page