Ending the year on a high join Mella Ethiopia for their Mella Monthly event Episode 16 as they welcome speaker Zemedeneh Negatu, Global Chairman of Fairfax Africa fund and previously, Managing Partner of Ernst and Young (EY) Ethiopia, a firm he ran for 18 years. Zemedeneh has grown to be one of the most well-known advocates for business and investment in Ethiopia over the years.

And entrepreneur Bethelhem Dejene, Founder of Zafree Papers, a startup that has innovated a 100% tree-free paper.

Join Mella Ethiopia for what is sure to be an amazing evening this week! To attend please RSVP via their website

Tickets: 50 Birr on the door. *Snack and Drinks provided
Location:
Gedey Gebrehiwet Building, Sarbet, Addis Ababa
Next door to Kings Hotel, opposite IEC Church and down the road from Adams Pavilion.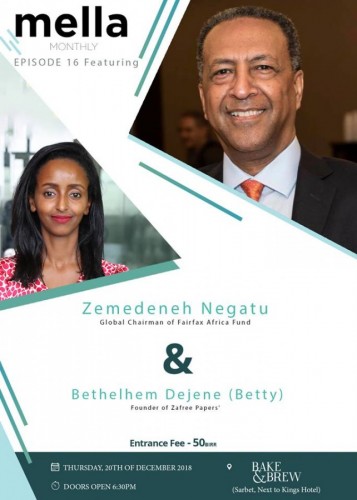 Share this page