The inaugural Ethiopian Literature Festival presented by Ethiopian Community in Britain, Ethiopian Association of Students & Youth in the UK - EASYUK and Anglo Ethiopian Society
Key Note Speech by Aida Edemariam - author of 'The Wife's Tale: A Personal History' and columnist at The Guardian


A panel discussion with prominent authors and poets:
Aida Getachew, authored and published first book "Secrets of Life" at the age of 12.
Father Birhanu Bisrat, religious scholar and historian, multiple publications including most recently on the relationship between state and church during Emperor Menelik II.
Hama Tuma, Ethiopia's greatest living satirist, author and poet. Banned by three different governments for his work.
Magdalene Abraha, Editorial Manager of Jacaranda Publishers. Advocate for diverse writers particularly those of Ethiopian heritage. Formerly Commissioning Editor at Bloomsbury Publishing House.
Workshops on:
- Creative writing
- Poetry and Qane
- Essay Writing
- Art of Translation
Activities for children including learning to write the Ethiopian alphabet and "Tirat Tirat" (Story Time).
A presentation of Ethiopian Literature History - from Axumite Kingdom to Modern Ethiopia and the famous Ethiopian authors and poets to have visited/lived/studied in London.
Performances by prominent Ethiopian Poets.

Book Sales and Book Signings and much more.
#EthioLitFest
2 February 2019 at 3:00pm - 2 February 2019 at 9:00pm
Coffee Afrique, Atkins Square, Pembury Centre, 1 Dalston Ln, London E8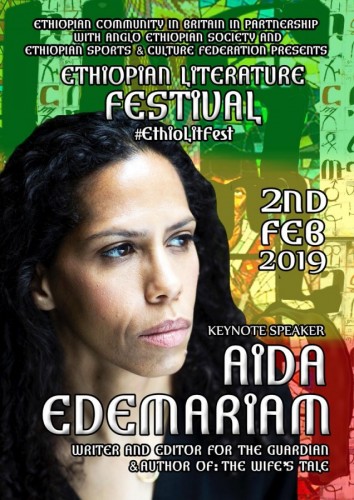 Share this page