Flowers of Ethiopia
It is not hazardous to say that Robin Yong's journey, it's a journey into beauty. The goal is a long journey made of miles of experiences merging directly into the definition of colours and light. This is the key to approach the perfect harmony of his shots, which touch a dazzling aesthetic, built not on simple expressive formalism or pure technique, but on a movement that has its roots in emotions.
Yong travels for thousands of miles, to meet people and immerse himself in different cultures. A journey in a different world, that he faces with the certainty that he will be able to go back to the roots where his artistic research lays. A passionate path towards that beauty which is expressed in such aesthetic perfection, because it is first lived and sedimented inwardly. As Susan Sontag loved to define the natural and profound approach to the work of art, so is Yong's approach sentimental and almost erotic. Yong lives in a deep state of desire that allows him – as he underlines "my shots are made with natural light, without predispositions of artificial lighting systems" – to naturally grasp the essence of a beauty that already exists and that needs to be caught in its purity, in an unparalleled form.
Flowers of Ethiopia is one of Yong's most surprisingly beautiful works. The journey in the Horn of Africa, in the Omo National Park, where ancient Ethiopian tribes live, brings him in a context of primordial nature, simple and pure, made of spontaneity, smiles, and innocence. The gaze of Yong frees himself of his "superstructures" to be able to grasp naturally what the great and wonderful mother nature offers him: flowers adorning other flowers, clothes of nature revealing purity, smiles for exchanges of understanding and friendship.
Flowers of Ethiopia is a tribute to the great people of a great land. Yong did not simply picture the reality of life, he has designed it with his own colours. Naturalness that meets other naturalness, immortality of an encounter of love.
Opening times: - Le Dame Art Gallery at Meliá White House
MONDAY TO FRIDAY 10 AM TO 6PM
SATURDAY 2 PM TO 6 PM – SUNDAY CLOSED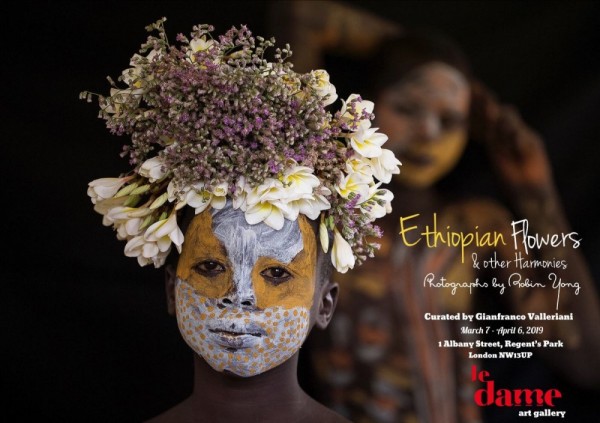 Share this page