The first Ethiopian Diaspora Festival since the establishment of the Ethiopian Diaspora Agency is set to take place in Addis Ababa between 27 – 29 August 2019.
The Festival will include:
a Diaspora Scholars Symposium and Training;
a B2B Networking and Forum for Diaspora Businesses to connect and engage with local investors; and
a business exhibition at the Sheraton Addis for locally engaged diaspora businesses to promote their services and products.
Accordingly, the Ethiopian Diaspora Agency cordially invites all Ethiopian Diaspora and Foreign Nationals of Ethiopian Origin in the United Kingdom to join Ethiopians from all over the world in Addis Ababa this August, to attend the Festival.
For further information please get in touch with the Embassy's Diaspora Department by email on info@ethioembassy.org.uk.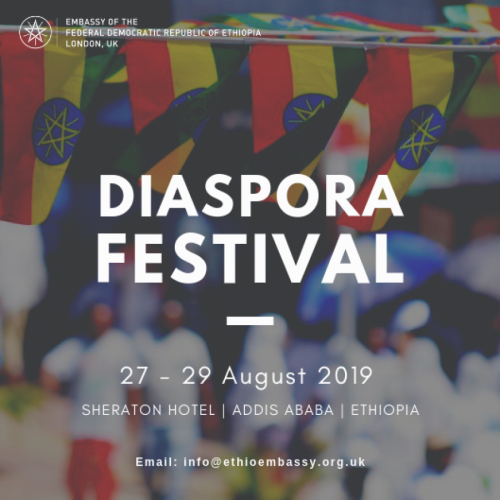 Share this page