Hosted by Aimiro Media Ethio-chapter, Ethiopia Connected & Ethio-Holland
On Saturday, September 7th 2019 you are invited to celebrate Enkutatash, the Ethiopian New Year.

For the 15th edition of the New Year celebration in East Amsterdam, Aimiro Media has joined forces with Ethiopia Connected and Ethio-Holland. Together they will provide a fun and varied program for young and old.

The program will consist of traditional food, various live music acts, a panel debate, a drawing workshop for the children, a market with entrepreneurs and organizations from the Ethiopian community and a New Year's fire (chibbo).

Keep an eye on the facebook page for news about the event!

Interested to participate in the event as an entrepreneur or organization?
Then please contact Kibret Mekonnen no later than August 15th 2019 at aimiromedia@gmail.com or (+31) 0641221184.
7 September 2019 at 4:00pm - 7 September 2019 at 10:00pm
Buurthuis Archipel Makassarplein 1, Amsterdam, Netherlands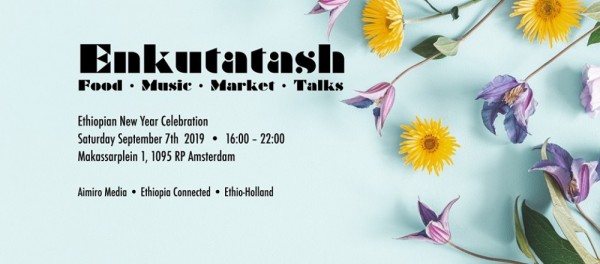 Share this page