Following the first London Girls Summit held in London last week, the Ethiopian goverment has set out plans to end FGM and CEFM.
A delegation led by Deputy Prime Minister, Demeke Mekonnen and the Women's, Children and Youth Affairs Minister, Zenebu Tadesse, took part in the first ever London Girl Summit 2014 on Tuesday (July 22). Co-hosted by the UK government and UNICEF, the Summit aimed at mobilizing domestic and international efforts to end Female Genital Mutilation (FGM) and Child, Early and Forced Marriage (CEFM) within a generation. It brought together women, girls and community leaders from all over the world, together with governments, international organizations and the private sector. British
UNICEF
Said its research had identified more than 130 million girls and women who had experienced some form of FGM in 29 countries in Africa and the Middle East. UNICEF also claimed that around 250 million women and girls today were forced into a marriage before they reached the age of fifteen. The Executive Director of UNICEF, Anthony Lake, who identified Somalia as one the areas where FGM was most prevalent, said "the numbers tell us we must accelerate our efforts. Somalia's Health Minister, Ahmed Adnam Ahmed, one of the delegates from Somalia, said eradicating FGM was a key priority of his government and they hoped to achieve this by 2016 through legislation and education. The Prime Minister of Bangladesh, Sheikh Hasina, said her Government was committed to eradicating early marriage by 2021.
Deputy Prime Minister Demeke Mekonnen
The Deputy Prime Minister said Ethiopia was committed to looking at sustainable measures to tackle FGM and child marriage. He highlighted the importance of formulating appropriate policies and strategies and putting in place institutions and human resources for their implementation. He stressed the importance of education in empowering girls and women, pointing out that more than 10 million girls have been enrolled in school in Ethiopia. This, he said, was the surest way of protecting girls and women from such harmful practices. He emphasized the role of effective decentralization which, he said, ensured the participation of all stakeholders in contributing to the national effort. He also noted that an important factor positively contributing to the fight against FGM and child marriage in Ethiopia had been deployment of more than 38,000 health extension workers at grassroots and community levels.

He discussed the challenges facing countries like Ethiopia in the fight against these practices and on ways to enhance efforts to find a lasting solution to them.
The Minister of Women's, Children and Youth Affairs, Zenebu Tadesse
Spoke of the experience of an Ethiopian girl, Yeshalem from the Amhara region, who was a victim of FGM in her early childhood and how she stood up to protect her rights by joining a girls' club, which empowers young girls to involve teachers and the police when they hear about threats of child marriage.
The Minister stressed the need to support fully such efforts. These, she said were instrumental in fighting these crimes and helping to bring about lasting solutions.
Ethiopia has taken steps to tackle FGM and child marriage and these are enshrined in the Constitution which outlaws such harmful customs: "Laws, customs and practices that oppress or cause bodily or mental harm to women are prohibited." The Constitution states: "Marriage shall be entered into only with the free and full consent of the intending spouses," and "Women have equal rights with men in marriage." The Constitution notes that women, in order to right the historic legacy of inequality and discrimination are entitled to affirmative measures. Legislation has been passed to strengthen the efforts to overcome both FGM and CEFM.

Ethiopia is committed to achieving the total elimination of FGM and CEFM by 2025 through a strategic, multi-sectoral approach. This is in line with Ethiopia's objective to reach middle-income country status by 2025; overall development is closely linked to greater opportunities for women and girls. The approach puts girls at the heart of the commitment, working closely with them, their families and their communities, to end these practices for good and break the cycle of harmful traditional customs.
Hannah Godefa, UNICEF National Ambassador for Ethiopia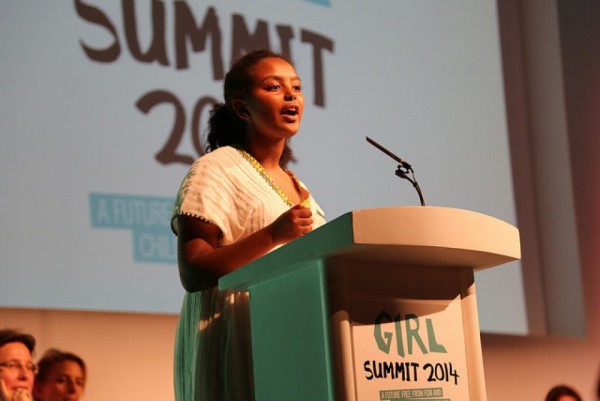 Picture: Marisol Grandon/Department for International Development
Also present speaking at Girl Summit 2014 was Hannah Godefa, UNICEF National Ambassador for Ethiopia who stated "Girls are not a commodity, to be bought and sold, and they are girls not brides".
Let us know what you think?
Share this page