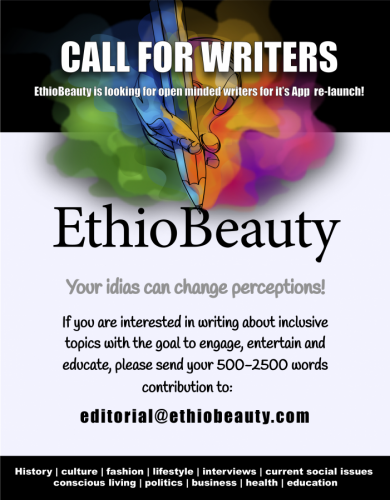 Are you Ethiopian or Eritrean? Are you passionate about issues facing your country today and interested in getting your voice heard? Ethio Beauty Magazine is looking for writers for its magazine App relaunch! We are especially looking for young people who are interested in writing about topics such as; social consciousness, education, unemployment, entrepreneurship and employability, youth radicalisation, equality and anti-discrimination, and the impact of collective consciousness on Ethiopian and Eritrean people.
Ethio Beauty is a unique magazine promoting the beauty of Ethiopia and general Africa; once called Aethiopia. We encourage positive creative contributions with the goal to engage, entertain and educate our readers. If you are interested and would like to contribute, please send a 500-2500 word article to editorial@ehiobeauty.com.
Categories loved by our readers includes History, culture, fashion, lifestyle, interviews, current social issues, conscious living, inclusive politics, business, health, education and more.
We also welcome other creative contributions (e.g. interviews, poems or photoshoots).