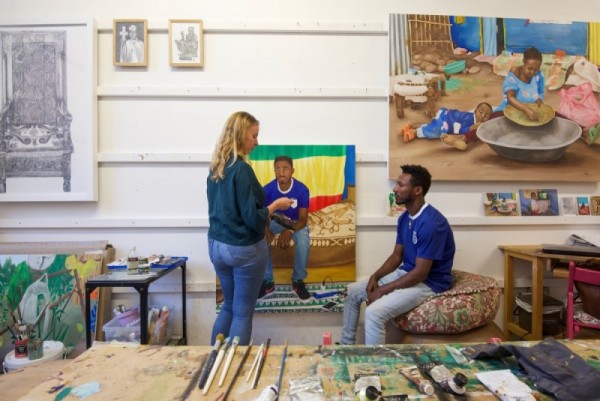 Catherine Chambers is a London based artist who when at home works from her studio. She embraces subjects that are common to people the world over including self-awareness, identity, aspiration, family ties, social status, security and religion. Her artwork is built on close contact and sympathy with her subjects and also echoes her own experiences. Consequently, a painting set in Ethiopia is also a reflection on conditions she believes to be universal. Her work is inspired by the environment around her, interpreting the nature of our being, our connection with our ancestry and our attitudes to others familiar and unfamiliar.

Ethiopia was a planned stop-over during a long north to the south trip through Africa. The stop-over became prolonged and led to a succession of continuing visits. Catherine's improving the use of Amharic, life with a local family and extensive background reading, have led to some understanding of the complexities of a rapidly developing nation. Her current works focus on local life and the circumstances of individuals who have become close friends. Often works involve the interaction of visiting Europeans with Ethiopian individuals and communities.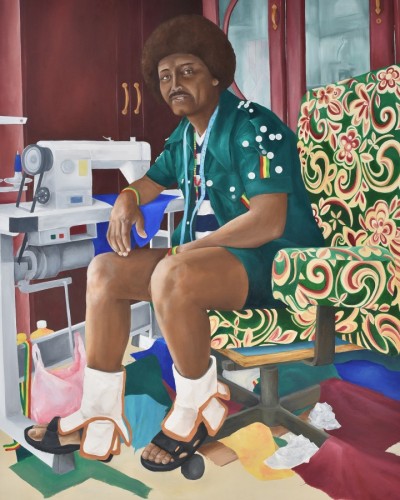 Girma, Oil on Canvas, 2018
Last year Catherine caught the attention of the Ethiopian Embassy in London when her portrait of a friend from Lalibela, named Girma, was selected as part of the Royal Academy of Arts Summer Show. This prompted ideas for an exhibition to be presented at the Embassy.
The majority of works being exhibited at the embassy are oil portraits of friends in Lalibela, people Catherine visits frequently but who cannot do the same in return which is frustrating. Painting a portrait is a way of showing appreciation.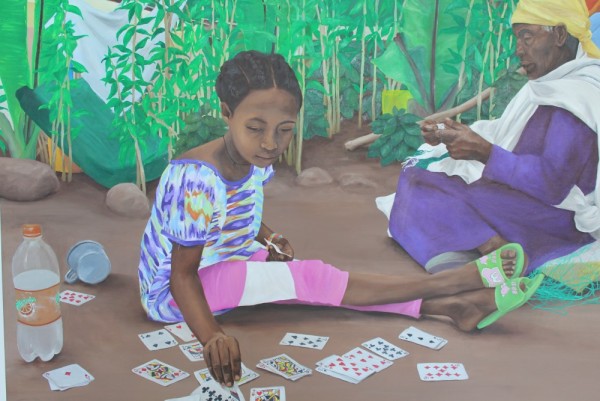 Detail from If You Are Lucky, Oil on Canvas, 2019

When in London she is always in touch with her friends in Lalibela and shares her progress on their paintings. When visiting she brings overprints of the works for them and any printed articles they have been featured in. Their support and interest in her work has been very encouraging and it has been a dream of Catherine's for them to see the work in person. The exhibition is particularly special to Catherine as one of her friends from Lalibela, Mengesha, is in England for the first time and will be able to see the show. Mengesha works in Lalibela as a host and tour operator for his many visiting guests. His visit to the UK is in part to experience and benefit from tourism in another country. He has spent time in Catherine's studio and has modelled for his portrait as the final piece for the exhibition.
Catherine in the Studio with Mengesha
The exhibition title "I appreciate you" comes from hearing the phrase being used often in Lalibela which sparked Catherine's interest in the variations in meaning that can occur by translation from one language to another. Catherine's attempts to learn and speak Amharic rely on translations and interpretations of words and phrases by friends, particularly by Mengesha, together with her own interpretations leading to some often amusing and confusing misunderstandings. Catherine is an avid observer who shares her work to stimulate discussion rather than to deliver conclusions. Her works are a record of her own development and understanding. Catherine's exhibited paintings, she hopes, will communicate "I appreciate you" of her relationship with Lalibela in both languages.

The exhibition "I appreciate you" opens to the public on Friday, 20th September until Friday, 3rd October at the Embassy of Ethiopia, London SW7 1PZ.

All are welcome to meet the artist at the exhibition on Saturday 28th September 12 pm - 4 pm.
For more information follow Catherine on Instagram @cchambersart
Share this page