Zaff Collection have announced the opening of the first ZAAF Showroom on March 21, 2015 at their location across from Shalla Public Park.
ZAAF is a collection of handcrafted luxury leather handbags and accessories produced by artisans in Ethiopia. We work with the objective of revealing Ethiopia's hidden resource potential to the world by offering consumers the opportunity to see and experience this nation's rich natural, human, and cultural resources. To date, ZAAF has been on the runway at New York Fashion Week, and has been highlighted by top fashion magazines including Elle, Lucky, and Vogue. We are eager to show you and treat you to a unique shopping experience in Addis.
Near Atlas Hotel; across from Shalla Public Park
RSVP: Kindly inform us of your attendance by March 20th either via text with your full name (+251 910 14 99 65) or email us at info@zaafcollection.com
Street Parking Available Please refer to showroom map below.
Enjoy Complimentary Cocktails & Hors d'oeuvres and 40% off of ZAAF Products during this stylish shopping soiree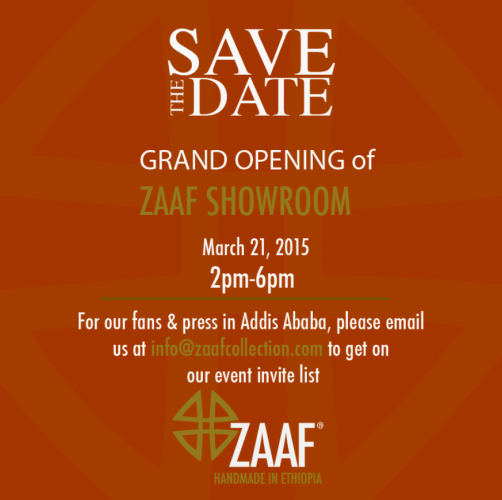 Share this page