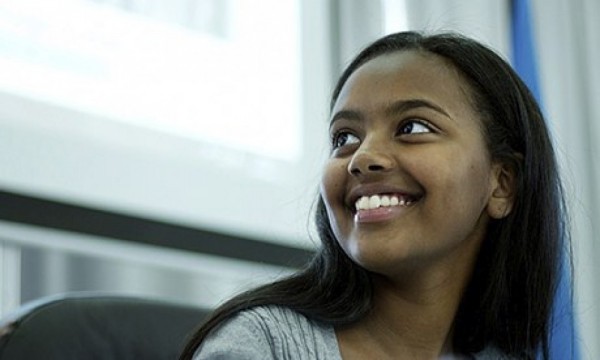 Photograph: Unicef
As part of International Womens Day and the rest of March 2014 Girls' Globe has partnered up with Johnson & Johnson to highlight the women that inspire them and to acknowledge the amazing strides that are being made to strengthen the rights and health of women and girls.
As part of their #WomenInspire campaign they honored the work of 15 year old UNICEF's National Ambassador Hannah Godefa. Having been award UNICEF National Ambassador in 2013 Hannah Godefa has since gone on to become the voice and representative of Ethiopian youth.
In the Interview with Girls' Globe Hannah talks more about "pencil mountain project", which she founded and which has gone on to povide pencils to thousands of students in Ethiopia. She also talks about what women have been of inspiration to her, such as her mother;
"My mother has been a huge influence in my life and a consistent inspiration to me. I grew up with a very strong sense of values and one of the most important things she taught me was to pursue my education and a love of learning to the greatest extent – because it is one of the few things that cannot be taken away from you...."
Read the full interview here
---
Girls' Globe is a network of passionate people and organizations working to improve the lives of women and girls, and through it, change the world. For more on the organisation visit ehir website http://girlsglobe.org
Share this page