Fodor's, a renowned name in travel guides, recently announced that Sabi Sabi Private Game Reserve in South Africa is a winner of Fodor's 100 Hotel Awards 2011, as selected by the publication's editors and travel experts. Sabi Sabi won in the "Luxurious Retreats" category and was recognized for the "secluded and intimate" nature of Selati Camp; the unique atmosphere created by its "old railroad" theme, and for "superb value for money" of its Ivory Presidential Suite.
Jacques Smit, Marketing Director of Sabi Sabi acknowledged the award, saying, "We have a devoted team and this honor underlines their commitment to providing a world class safari experience. Fodor's has a long-established reputation as an expert in the field of travel, so we are especially pleased to be among their top picks."
Sabi Sabi has four distinct 5-Star rated lodges that represent a 'Yesterday' (Selati Camp), 'Today' (Bush Lodge and Little Bush Camp) and 'Tomorrow' theme (Earth Lodge). Fodor's editors and writers chose Selati Camp as their favorite. To them it captures theOut of Africa romance of the great safari era camps when pioneers explored the lowveld region where Sabi Sabi is situated. The voters describe Selati Camp as, "an intimate, stylish, colonial-style camp that was formerly the private hunting lodge of a famous South African opera singer. The early-1900s atmosphere is created by the use of genuine train memorabilia-old leather suitcases, antique wooden chairs, nameplates, and signals-reminiscent of the now disused Selati branch train line, which once crossed the reserve, transporting gold from the interior to the coast of Mozambique in the 1870s. At night the gentle ambience of this secluded and intimate lodge is created by the flickering of original shunters' oil lamps. Dinner is held in the outdoor boma under African skies or in the cozy farmhouse kitchen, and lunch served on the wooden deck overlooking the Msuthlu River and endless, unspoilt bush.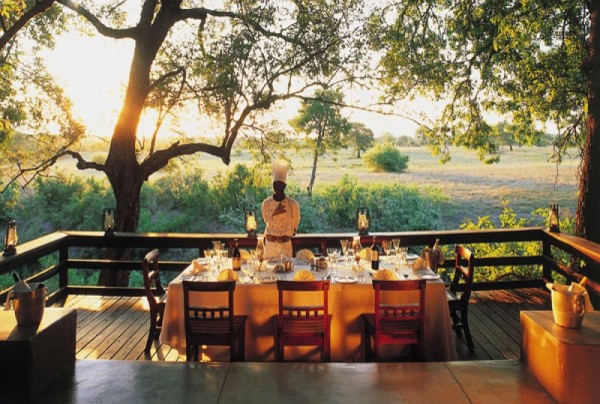 The spacious Ivory Presidential Suite with its mosquito-draped bedstead, genuine antiques, Persian rugs and authentic collectors' pieces has hosted members of royalty, Hollywood stars and famous personalities from around the world. The enormous en-suite bathroom features a huge stone bath, gorgeous chaise lounge and indoor and outdoor showers. It also has a private patio overlooking the bush, a private pool and all the amenities expected of a 5-star lodge including private Land Rover, well-stocked mini-bar and option of in-suite dining.
Located in the southwestern Sabi Sand section of Kruger National Park, Sabi Sabi has been a luxury safari destination for more than 30 years. Today, this private game reserve offers world-class standards in luxury accommodation, once-in-a-lifetime wildlife encounters in open Land Rovers and on foot, warm African hospitality, and mouthwatering cuisine. It is also an outstanding example of holistic conservation principles, balancing the ecology with the needs of local people and their communities and achieving Fair Trade in Tourism status several years ago from the World Conservation Union (IUCN).
Fodor's Travel is celebrating its 75th anniversary this year and added a number of new categories to its worldwide hotels awards selections including "Clubby Atmosphere" and "Casual Chic." The category in which Sabi Sabi won, "Luxurious Retreats," is also a new category. Fodor's Executive Editorial Director, Arabella Bowen, said, "Our editors and writers travel the globe each year to scout hotels, and the Fodor's 100 Hotel Awards represent the best of the best." She also said that the choice of where to stay is one of the most important decisions a traveler makes: "We believe these 100 hotels deliver the style, service, and quality that our discerning travelers seek."
Share this page