Congratulations to Ethiopian Poet Liyou Libsekal (Addis Ababa) on winning the 2014 Brunel University African Poetry Prize. She follows in the footsteps of last year's first winner female poet Warsan Shire (Somali).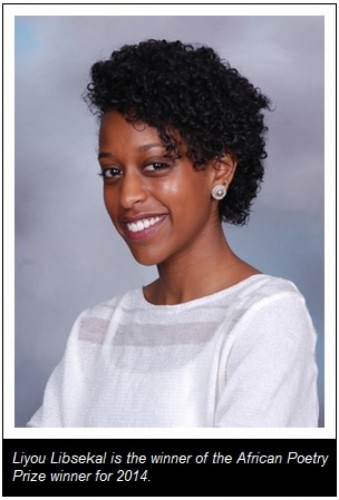 The Brunel University African Poetry Prize event is aimed at the development, celebration and promotion of poetry from Africa. Now in its second year, this year the prize was sponsored by Brunel University and Commonwealth Writers. British-Nigerian writer, Bernardine Evaristo, who teaches creative writing at Brunel University and initiated the prize in 2012, describes her reasons for a new prize exclusively devoted to African poetry:
'I have judged several prizes in the past few years, including chairing the Caine Prize for African Fiction in 2012, an award that has revitalised the fortunes of fiction from Africa since its inception in 1999. It became clear to me that poetry from the continent could also do with a prize to draw attention to it and to encourage a new generation of poets who might one day become an international presence. African poets are rarely published in Britain. I hope this prize will introduce exciting new poets to Britain's poetry editors.'
The prize is open to poets who were born in Africa, or who are nationals of an African country, or whose parents are African. Poets were required to submit 10 poems, and have had published poetry books or had chapbooks and pamphlets published are allowed to submit for this prize
Libsekal was up against the following shortlisted poets for 2014 which included Viola Allo (Cameroon); Inua Ellams (Nigeria); Amy Lukau (Angola); Nick Makoha (Uganda); and Vuyelwa Maluluke (South Africa)
Click here to read Libsekal full poetry submission, below is a personal favourite of mine.
Agar
I remember a yellow scarf fashioned every which way and beautiful bones that peaked at the cheeks.
Mounted proud "young mother" in eyes mourning a daughter left behind
Families don't speak of shame and hindsight lives in layers.
She was pieces of you strolling tall, slender and curved but you were with me as she cocooned and rolled and stretched. Always in a flowered dress, always drenched in fate
you sit, a lakeside lullaby a picture of youth then, and forever and forever I gnaw on whether you knew near the end
but with age as authority, we lived in darkness why expect more in death?
My anger lives in layers un-abandoned, if only for my sake.
Liyou Libsekal will be appearing at the Times Cheltenham Literature Festivalon October 10th 2014 with Bernardine Evaristo. .
Source | African Poetry Prize
Share this page