Reserve Your Vip Table today for you and your friends!
- VIP Ella Night Premium Table Reserve -
- Vip Ticket Infomation
Price - £50 per person ( Entry Fee, Free Bottle Champagne is included, Waiters right in your table a VIP experience ). Vip Tickets are subjected to a minimum purchase of 5 VIP tickets in advance.
Entrance: 10:00 PM until 5:00AM
AT 12:00 We will stop Serving Food - Make Sure You are on Time for Delicious Bouffe Food
Please Try to Get on the Venue Before 12 AM (Limited Capacity)
ID CARD IS REQUIRED!
Please come prepared to show ID as a scanner is in operation for everyone. NO ID NO ENTRY! NO EXCEPTION

Nearest Station - Acton Town Underground Station - Piccadilly Line ( 10 MIN WALK FROM THE STATION )
Bus Numbers - 267 | 237 | 391 | H91 | N9 | 70 | 3 |
31 December 2018 at 10:00pm - 1 January 2019 at 4:30am
Vuk Luxury Banqueting Suite Vuk Banqueting Suite, W3 8JY Chiswick
Price: Standard £40.00 | VIP £50.00
Contact: info@ellatv.co.uk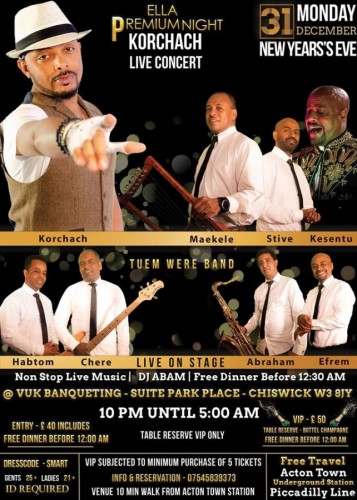 Share this page